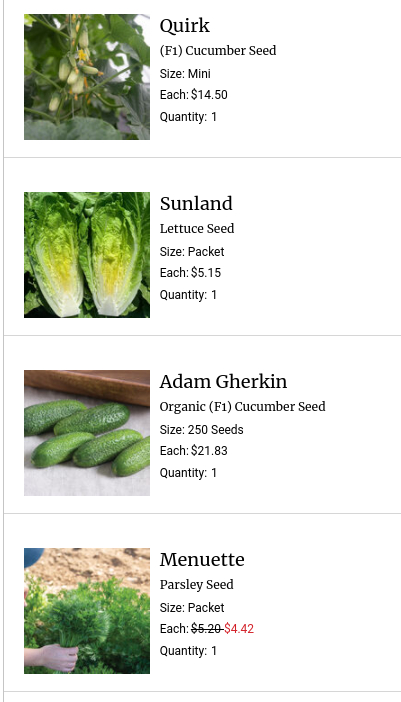 The seed rush has started! My calendar tells me to start the first lettuce outside if the ground is warm enough on February 2 (which it almost never is up here) and the first broccoli inside on February 14. But Mark asked me to try romaine lettuce this year, which seemed like an excuse to go ahead and start a few lettuce seedlings along with the first flat of broccoli seedlings on January 30. I couldn't help myself!
As usual, we're trying a small selection of new varieties along with our tried-and-true and I thought you might like to see our experiments. We get our seeds from Johnny's because their plants are (almost) always both productive and delicious, so you can find all of these goodies over there if you want to follow suit. I will admit that their seeds aren't cheap, but I find that I get so much more out of each plant that it's worth the extra cash, especially once you factor in time spent taking care of crops that don't bear.
So, without further ado, four experiments!
Quirk produces tiny cucumbers that were just too cute to pass by when I saw them on the website.
Sunland is a run-of-the-mill romaine, but we've never grown romaine before so I'm adding it to the list. We'll be starting a few seeds every week then transplanting them the way you would broccoli, a different technique than our dependable direct-seed-a-bed-a-month technique formerly used for leaf lettuce.
Adam Gherkin looks like a similar variety to my beloved Harmonie, which has been a delicious producer for years. Yes, 250 seeds is a lot, but the packet option just seemed too small. I can often eke out cucurbit seeds for two to four years, so if this variety is a winner that will only be $5 – $10 a year for our main cucumber crop.
Menuette is a new kind of parsley with very small, ferny leaves. We like to use parsley in tuna salad, but the bigger leaves tend to get tough in the summer. We're hoping this variety will stay tender all year long.
How about you? Which new varieties are you most excited about trying? (I'm assuming your seeds are ordered, right?!)