When your harvest looks like this: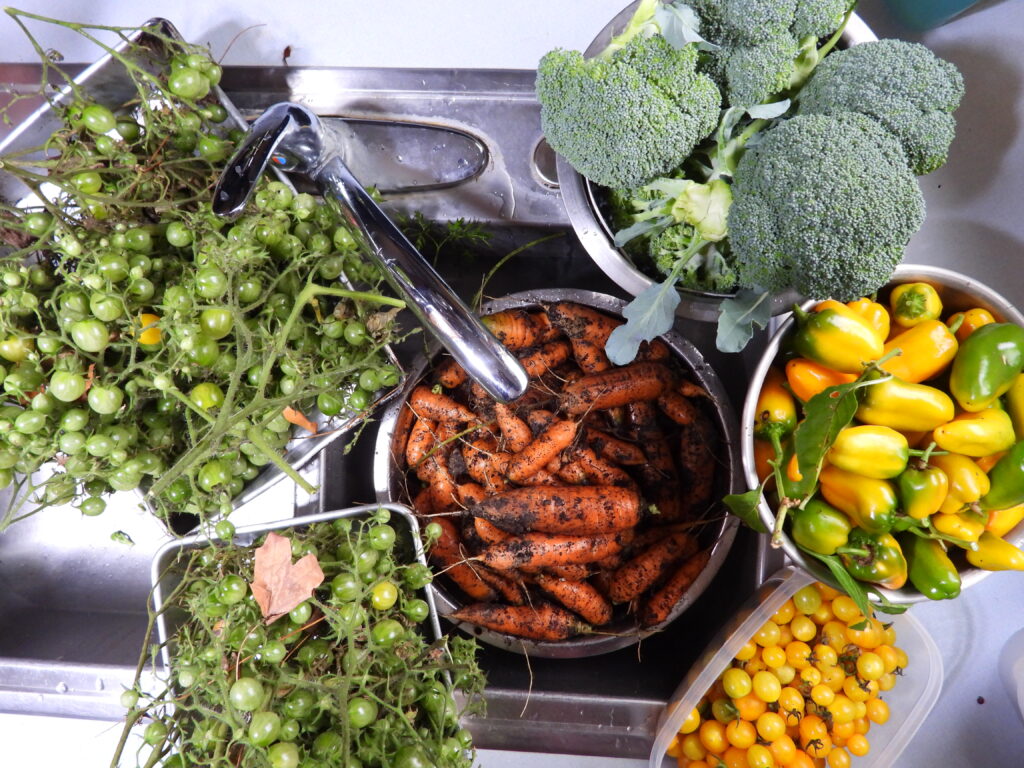 It's time to cook this: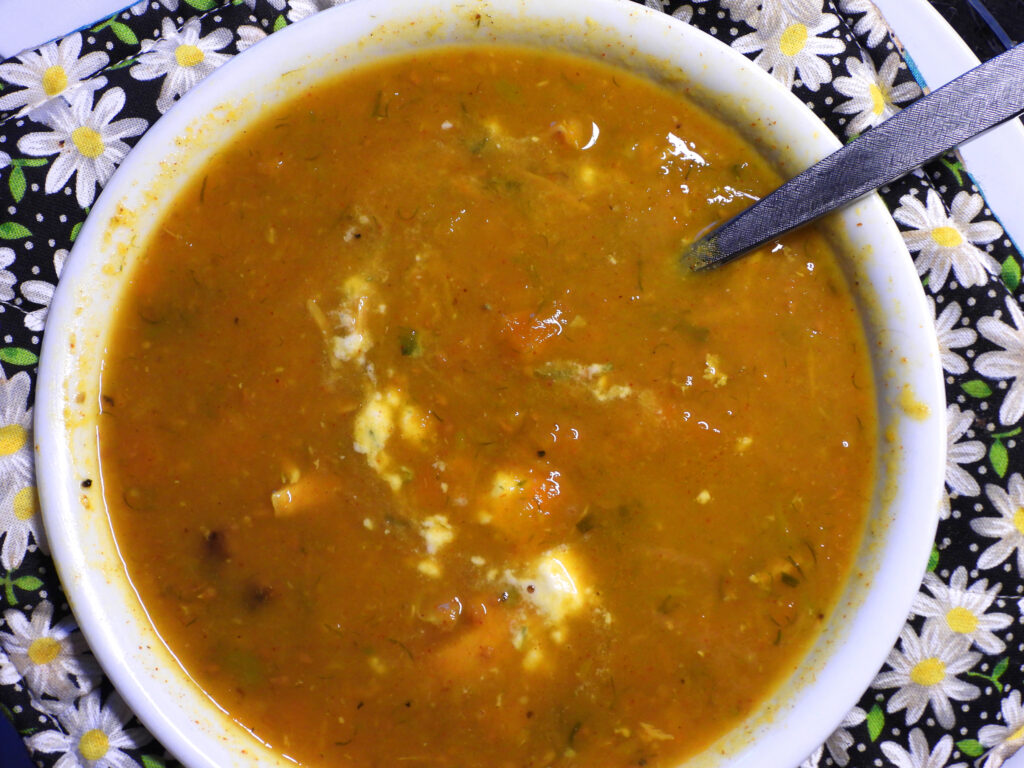 Ingredients:
6 cups of cherry tomatoes (or 2.5 cups of stewed tomatoes)
1 chicken breast with bone in (or 3 cups of chicken stock and one cooked chicken breast)
1.25 cups of chopped sweet peppers
2.5 cups of carrots (or some combination of carrots and sweet potatoes)
1 tablespoon olive oil
1/2 teaspoon black pepper
1 tablespoon paprika (I used unspicy, but you might like it spicy)
1 teaspoon turmeric
1/8 teaspoon cinnamon
1/4 teaspoon salt
3 bay leaves
1 clove of garlic, minced
2 cups of green onion tops, chopped into small pieces
sugar (to taste, if your tomatoes are late season and sour)
Serves 4.
Optional serving suggestions:
Stirring in cheese is always yummy at the end. Parmesan works but an herbed goat cheese was amazing!
Mark likes bread on the side.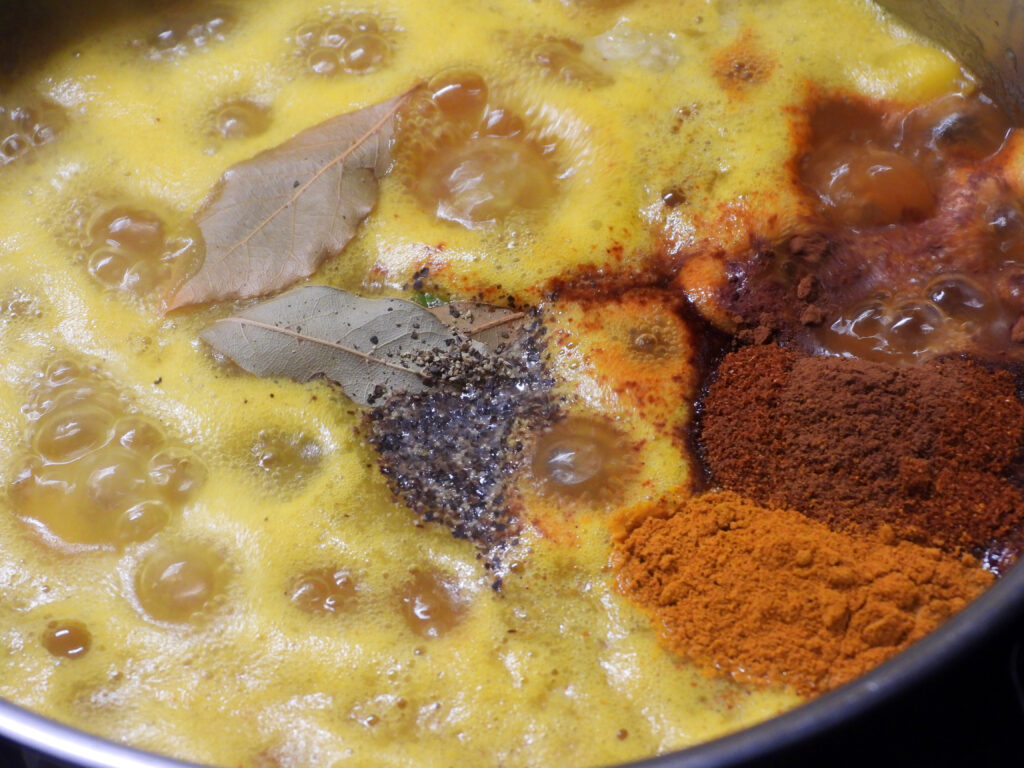 How to make it:
This is a basic soup recipe, so you don't really need to read this part. Here's what I did:
I cooked the chicken in the instapot with a bit of water for 10 minutes on the meat setting. Once this was done, I picked the meat off the bone and put the bones back in the instapot with three cups of water to cook for an hour to make broth. Cooking longer would have been better, but I was impatient.
Meanwhile, I cooked the cherry tomatoes in just a little water until they were soft (about ten minutes). Then I ran them through the foley mill to remove the skin and most of the seeds. If I was using roma tomatoes I wouldn't have bothered with this processing, but cherry tomatoes are very seedy! I suspect foley mills are not the modern way to do this — please comment if you use a different gadget to get the same result…
Next, I mixed the processed tomatoes with everything except the chicken, the broth (because it wasn't done yet), and the sugar. Cooking this mixture for about an hour on medium to low heat will soften the vegetables, at which point you can remove the bay leaves then use an immersion blender to create a relatively smooth texture. (If you prefer vegetable chunks, skip the blending step.)
By this point, the chicken broth was done, so I added it into the main pot along with the cooked chicken breast (broken up into bite-size pieces). The soup probably would have been even better if I'd simmered it for about an hour with all ingredients in the pot, but I was hungry and it was delicious just thrown together like this!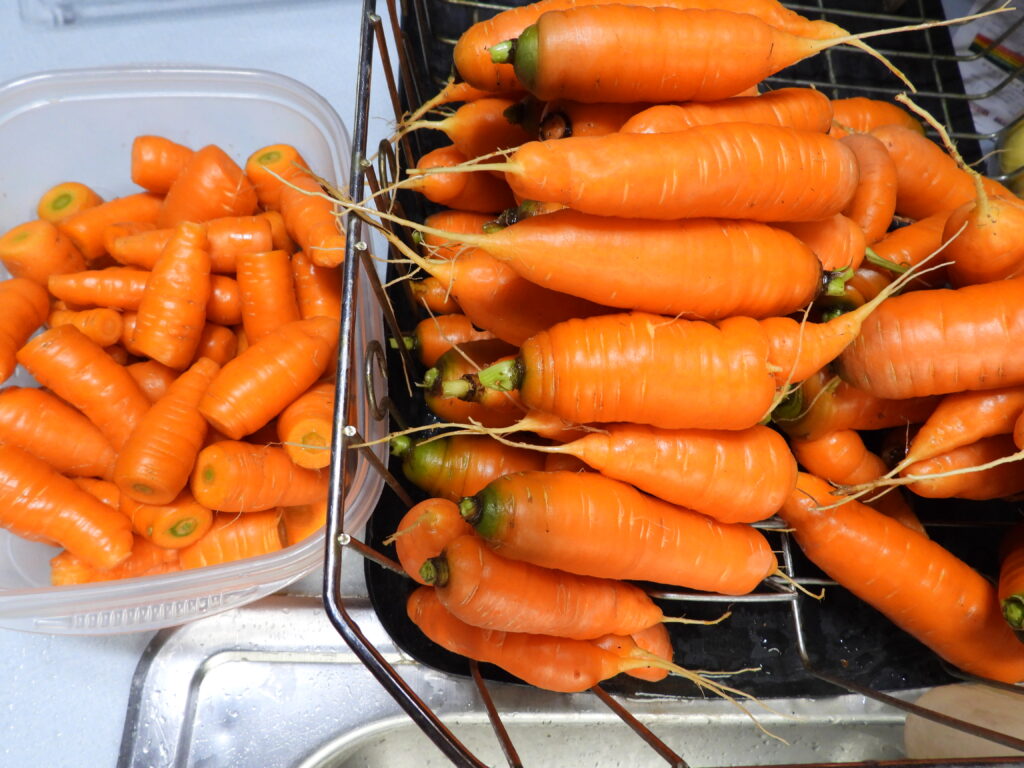 Side notes:
I used the littlest carrots from the harvest (on the left in the photo above), which wouldn't keep long in storage. If you have sweet potatoes, I'd recommend using half carrots and half sweet potatoes, in which case you shouldn't need any sugar.
If you prefer beans over meat, chickpeas are your best option in this soup.
Soup color depends on tomato color. I usually make it with red, but our tommy-toes were yellow this year. It tastes the same either way.
What did you turn your last big harvest of warm-season goodies into?