It's asparagus season and high time for an asparagus post! I'm not going to regurgitate the information you can find in any book or website about giving your plants a few years to get their feet under them before starting to harvest, keeping the weeds at bay, etc., though. Instead, I thought I'd share a few observations I've made over the last decade plus of growing our own asparagus then gorging on the harvest.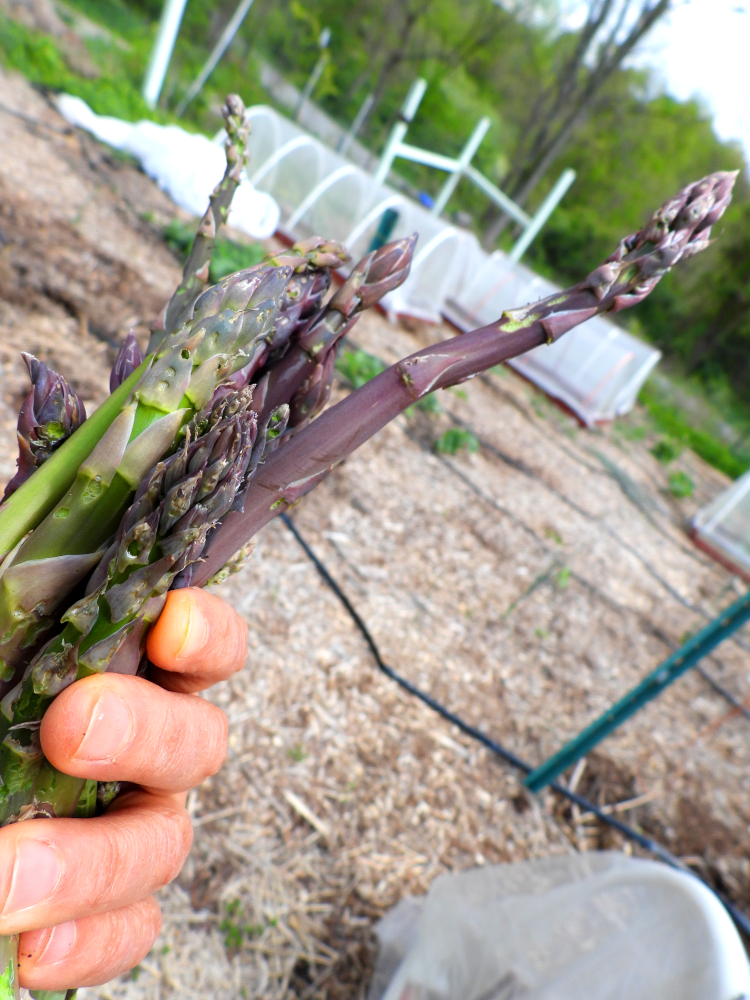 Our favorite variety
Don't buy purple asparagus expecting it to look pretty on your plate. As soon as you cook them, purple spears turn green.
But do plant Purple Passion! Mark's mom gave us five plants the same year we planted our main patch and they've turned out to be the earliest producers and the heaviest producers in our garden.
Early harvests
For the earliest harvests, rake back the mulch and any top-dressed compost a couple of weeks before you expect to see spears. This will let the ground warm faster and will buy you perhaps a week over your non-raking neighbors' plots.
Of course, that opens you up to freeze damage which will melt your delicious veggies into goo. So, when you expect a freeze, head out and pick every spear in sight. Well, almost every spear. If an asparagus plant is less than three inches tall, I'll instead take a leaf from my mom's book and drop a handful of that raked-off mulch back over top for freeze protection. No need to remove it after freeze danger passes either. Pointy asparagus will push right on through.
Delectable roast asparagus
Unlike grocery-store asparagus, ours tends to come out of the garden with some tiny spears and some huge spears. If they go into the oven all different sizes, the smallest spears will burn before the bigger ones turn sweet. So if you're like us and crave the caramelized sweetness of asparagus roasted in olive oil until the edges go brown, be sure to cut up your spears to make them evenly sized.
That's all there is to years of delicious harvests. Enjoy what we consider one of the easiest and most dependable crops!