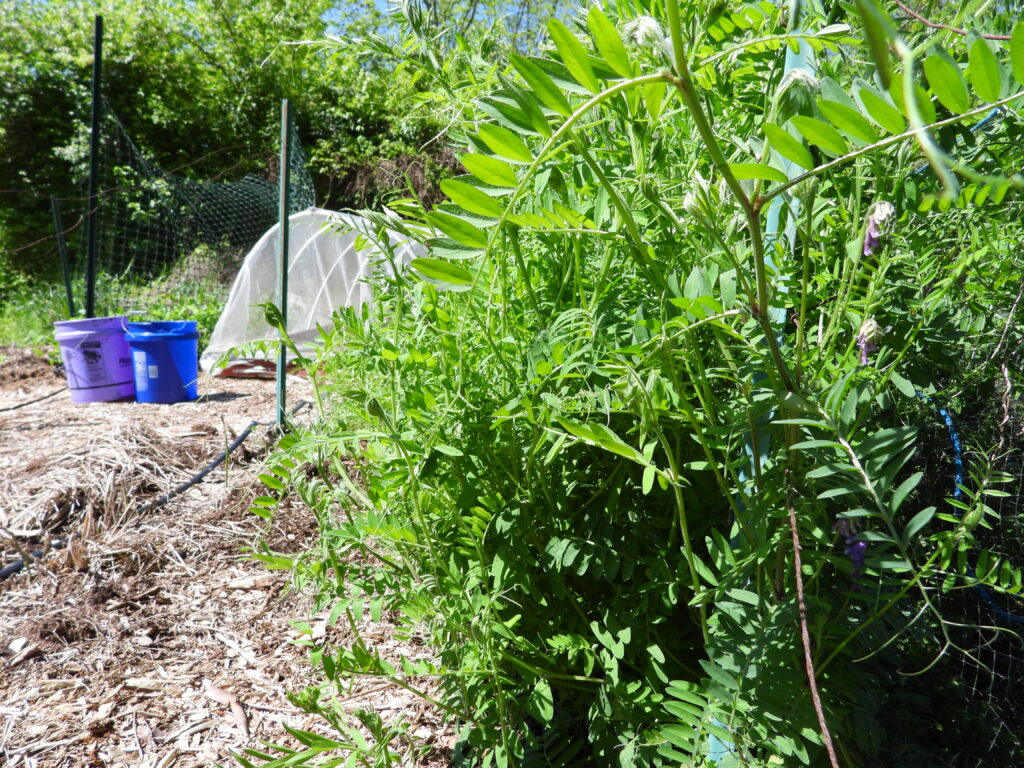 Remember my disappointment in summer-planted hairy vetch? Well, that patch kept growing slowly throughout the fall and winter, then took off like a rocket this spring. I needed some mulch this week and didn't mind the vetch bed staying in cover crops for another year, so I actually cut when only the first few blooms had appeared. Harvest was extremely simple — a lot of stalks ripped out easily by hand then I used a toothed sickle to cut through the rest.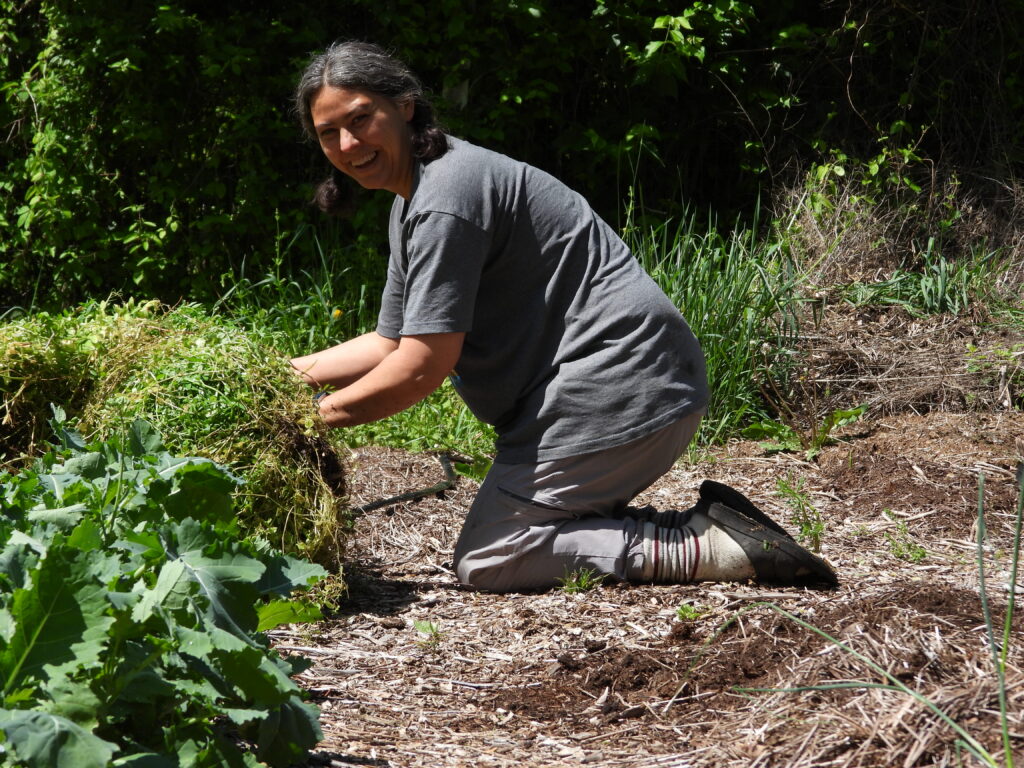 For the first bed that was entirely vetch, I rolled my cut cover crops up into a big snowball of greenery and pushed them down the hill to the broccoli, who have been treated with worm castings but still need more nitrogen (plus mulch). The vetch covered up an area about three times as large as the original spot it had been harvested from, although we'll see how much the greenery melts down as the stems die and dry.
Co-planting rye and vetch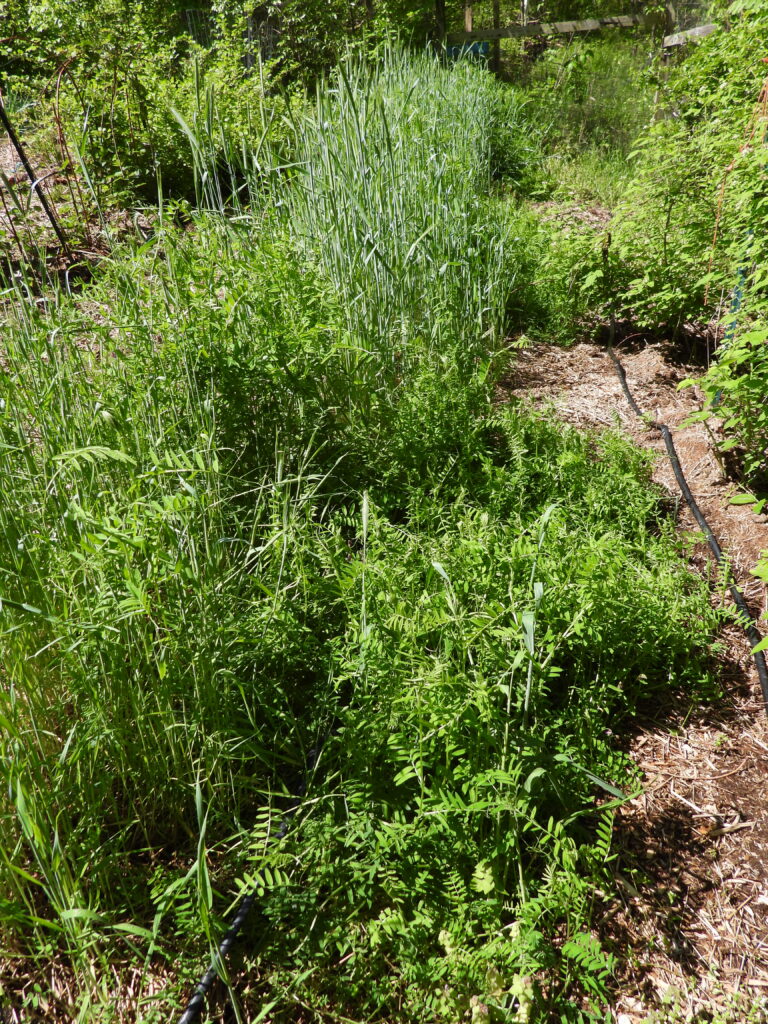 Next up was taking a look at a rye-and-vetch co-planting. Like the other vetch bed, this patch of garden soil needs serious improvement (thus the focus on a nitrogen-fixer like vetch). Unlike that other bed, I planted in fall instead of summer.
In this area, I wanted to determine which did better — rye planted solo or rye interplanted with vetch. So I divided the bed up into stripes, the first one vetch and rye, the next one rye only, etc. The idea is to make sure any difference I saw between plantings wasn't due to the part of bed they were planted in.
Conclusions? First of all, it's clear that rye does much better in excellent soil than it does in poor soil. When we'd planted it in Virginia, our rye used to grow to my shoulder. These beds barely make it to my waist.
The vetch, in contrast, did quite well here (although only about 60% as well as the summer-planted vetch-only bed). The bands with vetch produced about twice as much total biomass as the rye-only bands did. Would a vetch-only band have produced yet more? Hard to say since my vetch-only bed was planted earlier in the season than the rye-and-vetch bands. Sounds like we're due for another experiment this fall.
Moving hand-harvested mulch around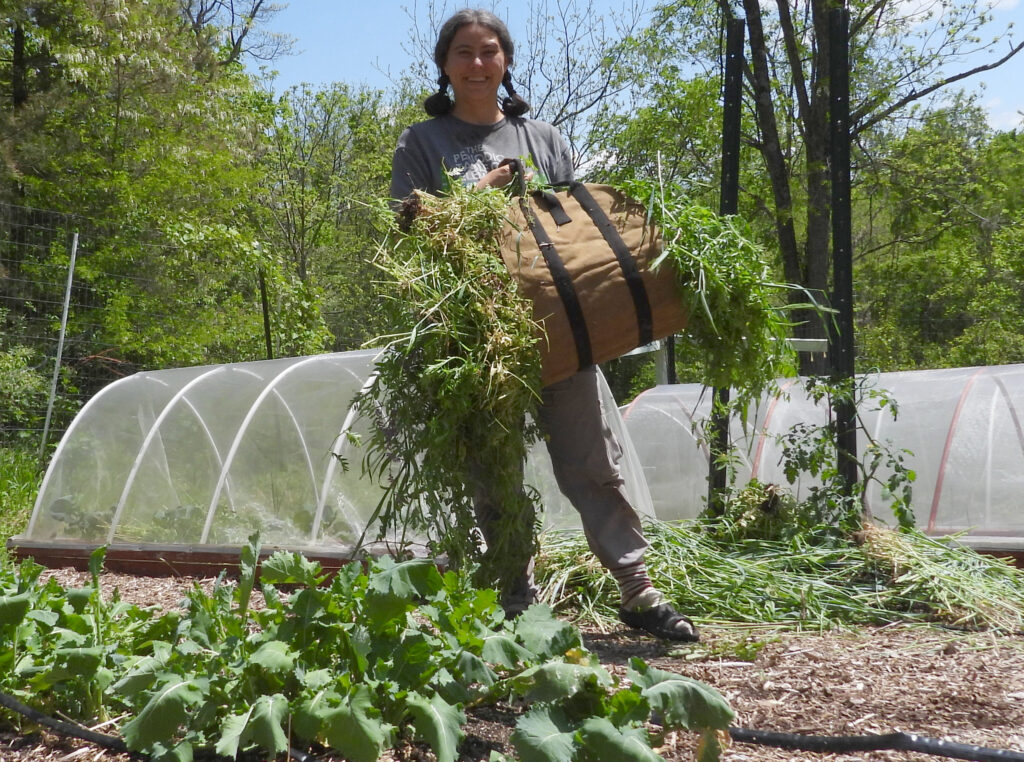 As a side note, the firewood tote carrier we no longer use turns out to be awesome for moving cover crop mulch around. If you're hand harvesting, you can lay clumps into the carrier as you cut them, then the tote bundles them up nicely as you wander across the garden.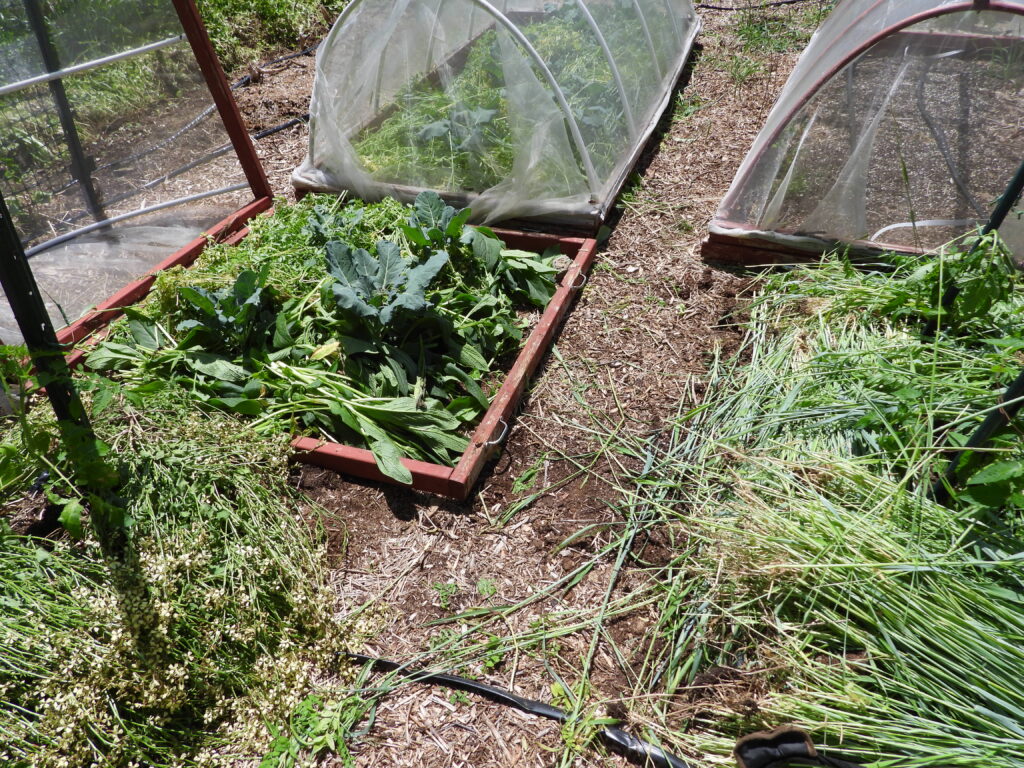 And here's about a third of the area I mulched with handcut cover crops over the course of a bit over an hour. Yes, I did yank up blooming arugula and cut some comfrey leaves also to round things out. I'm now tuckered out but very pleased with my free mulch.